Article
Climate & Gender Lens Investing: A critical piece of the puzzle?
Published 9th September 2021
By Sarah Casey, Portfolio Director, Climate Council
Applying a climate lens to investing is, today, not an unfamiliar notion. Given that 'environmental' is a central pillar of ESG, reporting on climate and integrating it into business and investment decisions has had a lot of attention in recent years. Investing with a gender lens however is something less familiar with but it is an increasingly important consideration.
Investing with a gender lens incorporates gender considerations into financial analysis in order to achieve better social and financial outcomes.
Whilst in 2011 the Cancun Agreements acknowledged that gender equality and the effective participation of women are important for all aspects of any response to climate change, women remain under-represented across the board from having key roles in decision making processes to being minority recipients and users of capital.
In 2020 the European Investment Bank (EIB) conducted a study exploring funding of female entrepreneurs. The report uncovered some stark realities and inequities including that only 2.3% of VC funding goes to women-led start-ups and that whilst women represent roughly 52% of the overall population in Europe, they only constitute 34.4% of the self-employed in the EU and 30% of its start-up entrepreneurs.
The report attributed these imbalances to a number of factors including a potential higher risk aversion of female-led companies to a combination of lack of female representation among founders and investors, gender investment bias and risk aversion which the EIB argued creates 'a vicious circle that is difficult to break'.
This study was published in 2020 and it can only be assumed that the situation has worsened as a result of the global Covid-19 pandemic and the resultant halt to much investment cross-industry and cross-border. Further, this report focuses solely on Europe and there is a marked lack of and accessibility to comprehensive data and analysis on both finance and gender globally.
What does this mean for investment?
There is a growing school of thought and body of evidence that suggests that investors (from family offices and entrepreneurs, to institutional investors and banks globally) are missing out on opportunity by not paying attention to women entrepreneurs, leaders and even down to the supply chains of their portfolio companies. By applying a gender lens to climate mitigation and adaptation investments imbalances can begin to be overcome whilst simultaneously delivering better results for business.
In 2015, McKinsey reported that up to US$28 trillion (or 26%) could be added to the global GDP in 2025 by closing the representation gap between men and women in the economy. Similarly, companies with high gender diversity have been found to be 15% more likely to have financial returns above their industry medians and companies with at least 30% women executives outperform those with lower women representation.
In addition, in 2019 the International Finance Corporation found that venture and private equity funds with gender balanced teams have 20% higher returns than their peers.
Clearly the investment community is at risk of missing out in increased profit and better results if it doesn't approach climate change and gender inequality simultaneously when it comes to investment decisions.
The Covid-19 pandemic highlighted the importance of taking a long-term approach to investment strategies and the importance of incorporating social considerations into investment decisions. So there is no better time than now for investors to incorporate a gender lens when embarking on building sustainable, diverse and impactful portfolios.
You might also be interested in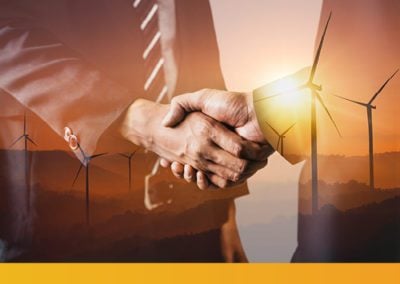 An indicator of sectoral strength has often been the quantity and value of M&A activity over an annual period, providing a sense of capital inflows and corporate interest in developing markets. The renewable energy sector has enjoyed year-on-year growth in M&A deals for the past decade, with a slight and expected dip in early 2020. read more