Article
Nature-Based Financial Disclosures – Tying Financial Risk to Natural Prosperity
Published 9th November 2021
By David Stent, Digital Producer & Content Manager
As COP26 passes through the Glasgow autumn, there remain many questions as to the solutions that will trigger action to suitably fight our assault on the climate. Industrial actors are often centre stage in the blame-game of greenhouse gas emissions. Yet the reality is that the financial-backing for emissions-heavy industrial and manufacturing companies must come from somewhere – and the belief is, if you cut off the hand that feeds you, you will no longer eat.
In fairness, reality is far more complex than enforcing an instant end to systems that are so deeply intertwined with our ways of life. Fortunately, the image of an activist has rapidly expanded in recent years to include a swathe of the finance and investment communities who understand their role and complicity in providing the capital to profit from these emissions. Some of this financial activism has manifested in networks such as the UN Principles for Responsible Investment or the Climate Action 100+ activist groups – which have effectively led to significant commitments to greener capital practices.
The Taskforce on Nature-based Financial Discloures (TFND) Alliance is a financial activist market-led coalition, backed by the UN, seeking to utilize the financial tools at our disposal to induce a more rapid rate of change to our emissions-heavy habits. The Alliance interviewed organizations, government bodies and regulators that are in control of over $8 trillion in assets to develop the 'Nature In Scope' a summary report of proposals to initiate a global framework for nature-based financial disclosures.
What are Nature-Based Financial Disclosures?
Financial institutions are known for their detailed due diligence that will uncover the associated risks with a business when deliberating over providing them access to financing – risks that may lead to a loss of capital. Therefore anticipating potential risks is crucial to a company's financial outlook. Traditionally, these risks reflect credit or operational concerns associated with macroeconomic shocks or market fluctuations or poor management – however, as society accepts the need to pursue the energy transition, society must also accept the inextricable intersection between our economic health and the health of the natural world.
So deeply linked that the TFND Alliance states that $44 trillion of economic value generation, 'more than half the world's economic output' is linked either moderately or highly dependent to nature.
This leaves the question – what is a nature-based financial disclosure? Essentially, NBFDs are the assessment and detailing of potential impacts one's business has on the immediate natural environment, the climate through emissions and if a company has plans in place to mitigate these exposures. While many of these tools exist individually within ESG disclosures or environmental impact assessments, the TFND Alliance has gone further to produce "practical recommendations for the technical and operational models" that will inform "both financial risk-identification and management", in order to produce positive economic affects for both nature and the economy.
The Mission
In anticipation of the year's crucial climate summit, the TNFD Alliance released the initial report from their 'Informal Working Group'. Herein, the group has set out a range of solutions for utilizing nature to "support a shift in global financial flows away from nature-negative outcomes and toward nature-positive outcomes."
Herein the group proposed seven principles that will inform a financial institution when assessing the NBFD:
Market usability, develop frameworks directly useful and valuable to market reporters and users, notably corporations and financial institutions, as well as policy and other actors;
Science based, follow a scientifically anchored approach, incorporate well established and emerging scientific evidence and aim to incorporate other existing science-based initiatives;
Nature-related Risks: Address nature-related risks that include immediate, material financial risks as well as nature dependencies and impacts and related organisational and societal risks;
Purpose-driven: Be purpose driven and actively target reducing risks and increasing nature-positive action by using the minimum required level of granularity to ensure achievement of the TNFD goal;
Integrated & Adaptive: Build effective measurement and reporting frameworks that can be integrated into and enhance existing disclosures and tandards. Account for and be adaptive to changes in national and international policy commitments, standards and market conditions;
Climate-Nature Nexus: Employ an integrated approach to climate- and nature-related risks, scaling up finance for nature-based solutions;
Globally Inclusive: Ensure the framework and approach is relevant, just, valuable, accessible and affordable worldwide, including emerging and developed markets.
Four Pillars of Assessment
The principles will be assessed according to four main pillars that reflect the operational structure of organisations, namely: governance, strategy, risk management, metrics and targets. When considering each pillar, the goal is to mitigate how natural risks may impact the business (abnormal weather events, rising sea levels, exposure to natural disaster etc) and how the organisation may affect nature (waste water, emissions, deforestation etc) – these are named "outside-in" and "inside-out" risks, respectively.
Establishing these pillars of assessment will then inform how systemic nature-related risks manifest and impact the natural world, and to estimate the longer term risks to an organisation.
Defining Nature-Based Risks and Opportunities
Defining these topics often becomes a stumbling block when talking about environmental action, as such the TNFD has sought to align their definitions between reporting standards and frameworks to avoid any particular bias. Beyond this the TNFD is developing a "typology of impacts on nature, dependencies on nature, and the financial risks and opportunities resulting from these impacts and dependencies, organized by industry". The intention is to utilise the existing standards and frameworks to construct a "finite number of metrics", which can then be utilised by financial institutions to assess their partners.
Roll-Out and Uptake
The Taskforce expects the NBFDs to come into action as part of a pilot programme by 2023, in which the assessments will be deployed to both established capital markets and to 20 developing economies. Once the pilot programmes have run, the outcomes will be assessed to then refine and develop a framework for wider roll-out. In this time, the TNFD hopes to achieve a broad industry and governmental consensus that accepts the need for NBFDs and that re-structuring financial disclosures to be inclusive of natural impacts, will lead to accelerated climate and environmental protection actions.
The full 'Nature in Scope' summary report can be read here
You might also be interested in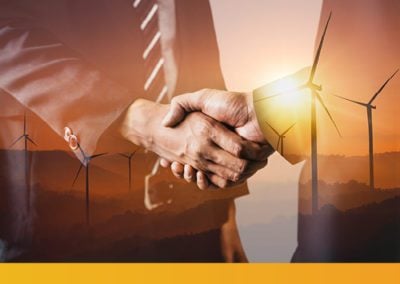 An indicator of sectoral strength has often been the quantity and value of M&A activity over an annual period, providing a sense of capital inflows and corporate interest in developing markets. The renewable energy sector has enjoyed year-on-year growth in M&A deals for the past decade, with a slight and expected dip in early 2020. read more