Executive Interview
Q&A: Andrea Course, Venture Principal, Shell Ventures
Published 20th September 2021
By Kamogelo Motse, Portfolio Researcher, Climate Council
Q. What does Shell Ventures do and what does your role as venture principal entail?
Shell Ventures is the corporate venture arm of Shell that makes minority investments into tech startups that can help accelerate the energy and mobility transition. These innovative technologies are used by Shell to reduce our carbon footprint and become more efficient and effective. My role entails identifying these startups, presenting them as great opportunities to our investment committee then going through the deal and becoming part of the company's board.
Q. Your current job is very different from what you studied, what made you want to get into the venture capital space?
I love the personal aspect of investments! I get to look into really cool and exciting innovative companies that are doing things that I didn't even know were possible. Being in ventures allows me to learn new things everyday as well as making an impact by investing in these innovative companies.
Q. It has recently been in the news that Shell has bolstered its Venture Capital arm through increasing budgets, hiring more staff, and doing more deals. Can you provide some more detail on this?
We do think of Venture Capital as a way to innovate outside of the big corporation. It is important as we continue the energy transition, to support ideas and to support innovation as well as coming up with new technologies. We are disrupting rather than being disrupted.
Q. Your focus is mainly on Robotics, Artificial Intelligence and Machine Learning companies, why do you think it is important to invest in such companies and what role do you think they play in the energy transition?
The reason why I think Robotics, Artificial Intelligence and Machine Learning is important is because technology has advanced so much in the recent years, we need to ensure that we are optimizing every process as we go along. The only way that we are going to make it in a future, where carbon footprint is decreased, is if we can make use of these technologies. The energy transition is not only about enabling new sources of energy but also about reducing unit cost to become more efficient and productive so there is less waste.
Q. Are there any particular up and coming technologies that you have your eye on?
There is a lot going on, people have gotten so creative, especially in this pandemic. I am personally looking into carbon capture utilization and storage markets. There is plenty happening in the carbon space when it comes to direct capture, point source capture and how we can use and create these carbon credits in a meaningful way to reduce carbon emissions.
Q. Why do you think focusing on ESG principles when investing is important? In addition, how does Shell Ventures approach this?
More investors are looking at ESG principles as something that must happen. You cannot ignore it. We have to work together to ensure that we meet the Paris Climate Agreement. At Shell Ventures we have to continue to listen to our customers, while also furthering the development of solutions that truly make a difference for both our company and the energy transition.
Q. Do you think there is diversity and inclusion in the sector that you work in? Is this something that still needs to be worked on? If so, what are some of the ways in which you think this can be achieved?
Venture Capital is a male dominated industry and when it comes to investments most people do not realize how little goes to female founders, globally about 2-3 percent went to female founders. When looking at fund managers and the amount that male fund managers versus female fund managers are able to raise you can see the disparity; women tend to raise less money and therefore get less money to invest. To change the problem, the first step is to acknowledge that there is a bias to women so that when decisions are being made people can ask themselves if they are making a certain decision because this person is a female or a minority.
Andrea Course works in Shell Ventures as Venture Principal where she invests in innovative start and scale-up companies that accelerate the energy transition, focusing in the areas of ML, AI, Robotics and Decarbonization. Currently she sits on the boards of Innowatts (Digital Energy Platform) and Osperity (Intelligent Visual Monitoring). Andrea has 15 years of experience in the energy sector as both technical SME and investor. Prior to joining Shell, Andrea worked as Venture Principal at Schlumberger Technology Investments. In addition, she is a speaker and gender equality advocate who supports minority-owned startups as founder and managing partner for Course Investments as well as an Advisory Board Member of the business angel Minority association (baMa).  She holds a degree in Engineering Physics from the University of Central Oklahoma, a Master of Science from the University of Oklahoma in Aerospace Engineering and an executive MBA from the University of Houston.
For more information about Shell Ventures, please visit their website: https://www.shell.com/energy-and-innovation/new-energies/shell-ventures.html
You might also be interested in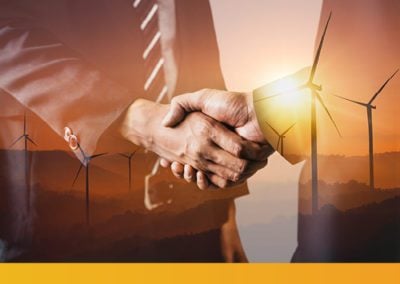 An indicator of sectoral strength has often been the quantity and value of M&A activity over an annual period, providing a sense of capital inflows and corporate interest in developing markets. The renewable energy sector has enjoyed year-on-year growth in M&A deals for the past decade, with a slight and expected dip in early 2020. read more