Executive Interview
Q&A: Charlotte Aubin, Founder, GreenWish Group
Published 8th November 2021
By Kamogelo Motse, Research Assiociate, Climate Council
Can you tell us a bit about your professional journey and what inspired you to create GreenWish?
I started working in the investment banking industry in 1996 and spent 13 years in asset management. I left in 2009 because I felt that my values were no longer aligned with the investment banking world given the responsibility we had in the global financial crisis. When I founded GreenWish, I had three objectives, creating my own business following my own values, financing the real economy and not the capital markets and creating environmental and social impact. GreenWish started with the financing of European and North American projects before focusing solely on Africa clean powering from 2014 to 2019. We raised three equity rounds to support renewable projects and telecom energy transition projects on the continent. One of our main achievements was pioneering a 25MW solar project in Senegal that came out in record time of 1 year of development and 8 months of construction. Following this project, we also pioneered telecom energy transition projects for Orange in three countries reducing their cost of operation by 30% and 70% of their carbon footprint.
You developed pioneer renewable energy and energy transition projects in Africa, could you tell us about the potential of renewable in the development of Africa?
I have a strong conviction that clean technology is the solution to many of the challenges on the African continent. Renewable energy combined with storage and digitalization is the solution to the energy gap. Indeed energy on the continent is scarce, expensive and highly polluting and relies on fossil fuels and backup solutions. Solar, Wind, Thermal and Hydro, subject to the countries energy mix are available sources of energy on the continent and represent the potential of accelerating the electrification of the continent. I believe renewable energy is at the core of economic, environmental and social development of the continent.
You currently work with eleXsys an energy efficiency software company. What is their role in furthering the energy transition/promoting renewable energy?
I have been a strategic advisor and investor in Elexsys since 2020. I was impressed by the breakthrough technology they developed as it solves most of the issues we faced on our projects in Africa such as grid stability, intermittency of solar, management of multiple sources of energy that are the global challenges to the penetration of renewable energy. EleXsys, which is an Australian company, has revolutionized the potential of solar rooftop, decentralized solutions, even EV charging potential by reducing required investments and increasing the monetization of produced energy through Software As A Service (SaaS). Thanks to Artificial Intelligence, they solved the issues of solar penetration to the grid and profitability of projects while bringing solutions both to the utilities by stabilizing the grid and to the users and investors. They have managed to break through the next challenge of energy transition, which is energy efficiency attached to renewable and storage.
In general, what role do you think tech companies have to play in the energy transition?
I believe that technology, be it cleantech, IT or fintech, is central to developing climate – smart solutions to the world energy and environmental challenges. If developed and used ethically, technologies can bring crucial solutions to the planet and the growing world inequalities.
What do you see as the similarities and differences in the energy transition opportunities in Africa versus in Europe?
The route towards energy transition is similar in Europe and Africa. The only difference is the starting point, in Africa you are starting with a deficit to bridge, which means that you have to leapfrog technology and business models while Europe needs to rethink its energy mix.
What made you want to get into sustainable investing, specifically into clean energy?
After 13 years in investment banking where I saw a lot intelligence, I also saw a lot of irresponsibility towards global challenges. Very early on I thought it was important for me to have a purpose behind the economic and financial activity I was pursuing. That is the basis of GreenWish and the name encapsulates my vision. We bring climate not solution to people and that has always been the DNA of any business I have been supporting since 2009. Twelve years later the financial industry has seen growing business opportunities and has been influenced by regulators, investors and consumers, and is finally seriously engaged in the climate agenda.
You recently supported the creation of the Schelcher Arkea infrastructure Transition Debt Platform. Can you tell us a bit more about this?
Schelcher Prince is a subsidiary of the French group Crédit Mutuel Arkea which is a €150 billion French bank-insurance group and works as a cooperative model. Together with the CEO of the asset management business we formed their Infrastructure Transition investment platform around our common values of environmental and social inclusion. The platform aims to develop an array of solutions through funds and mandates. The Credit Mutuel-Arkea group has contributed €650 million. Our objective is to accompany investors into financing the energy, environmental and digital transition in Europe while diversifying their debt portfolio and decarbonizing their investments.
The platform aims to embrace the major transformations of the fourth industrial revolution including decarbonisation. What is included under this umbrella and how will this theme be embraced?
We target the required investments following the new EU Taxonomy Ambitions and the aligned Sustainable Financial Disclosure Regulation for institutional investors. We aim to finance transition infrastructures in line with the trends of decarbonisation of power and mobility, digitalization, sharing economy and circular economy. These trends are all tied together as the sharing economy can happen because of digitalization and the circular economy meets the environmental agenda and energy efficiency while benefitting from digitalization.
*********
About Charlotte Aubin:
Charlotte Aubin has 25 years of experience in environmental infrastructure investment, international financial asset management, including 12 years dedicated to international and Sub-Saharan Africa renewable energy and energy transition.
Founder of GreenWish Group in 2010 dedicated to financing, developing and operating and strategic advisory on renewable energy infrastructures and energy transition transactions. 2000- 09, Managing Director of Morgan Stanley Investment Management built the French and Swiss institutional activities up to a multi-billion dollar asset level across multiple global asset classes.
If you wish to learn more about the GreenWish group, you can do so here: https://www.greenwishgroup.com/
You might also be interested in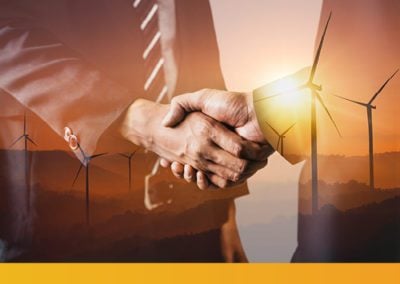 An indicator of sectoral strength has often been the quantity and value of M&A activity over an annual period, providing a sense of capital inflows and corporate interest in developing markets. The renewable energy sector has enjoyed year-on-year growth in M&A deals for the past decade, with a slight and expected dip in early 2020. read more