Executive Interview
Q&A: Hulisani Neswiswi, Managing Director at Trilemma Impact Investments
Published 18th March 2022
By Kamogelo Motse, Research Associate, Climate Council
What does your job as Managing Director at Trilemma Impact Investments entail?
I am one of three directors within Trilemma Impact Investments and I am responsible for the financial services cluster, so I oversee the product development, capital raising, and parts of the project development processes.
What did you study at University and do you think that prepared you for the career path you have chosen?
I got to WITS university not knowing what to study so I decided to go with Industrial Psychology and was selected to join the Liberty Group graduate program. The combination of the  qualification and the freedom to pursue any professional aspect of the financial services industry through the grad program was precisely what I needed to understand the different elements of the financial services sector.  
With the help of my mentor within the Group, I managed to move around a lot within the business  so as to gain specific sets of professional experience and exposure, and did really well while enjoying the work. I was able to use the insights I gained within the corporate environment to start my own investment company when I left the Liberty Group.
I have over the years picked up finance specific post graduate certifications which have added to my knowledge base, but the salient feature of my experiences within the finance sector so far have been that the market responds to your actual performance and the respective track record so you really want to go all in on that. The education probably gives you a technical foundation more than it assures you that you will do well in the field.
What made you want to choose a career in sustainable investing?
I initially focused my investment company on acquiring interest in mining and energy assets, so I have always had a belief in the energy sector as a whole, and the criticality of its place in our world. In mining and energy, the market clearly understood the value proposition, the industry was established and there were many points to enter and exit the energy market so securing finance was a piece of cake.
I, however, was woefully unhappy even though the business was doing well, so I exited the business and took a professional sabbatical. I also spent that time away volunteering my time to work with small businesses, NPO's and some women's organisations which had a profound impact on my priorities and personal values. At that stage I knew that whatever I commit to had to have a broad economic impact while still being within the finance and the energy environments.
I also wanted to do something that was future focused which brought my options down to environmental, and sustainability linked investments. Very little of the global investment potential is directed towards sustainable energy, and of that percentage, not much is designed to ensure the direct economic gains are realized in the local communities where these projects are deployed.  This is perhaps the most salient driver behind my focusing our business  on energy finance and specifically equity funding for  high quality projects. The idea was to answer the question of "what if the energy transition, can be used to challenge income inequality, through increasing local participation in the development, ownership and management of this current and subsequent waves of energy projects".
A lot of the high level financial rewards are driven towards huge multi-national businesses so local businesses struggle to participate in projects being run in their own country's or communities.  That is the thinking behind the finance solutions we work to bring to the renewable energy environment. We enable businesses that wouldn't, on their own, be able to participate in the energy ecosystem to participate through providing equity and other forms of support to projects they as private developers or the local government wants to develop.
Focusing solely on the delivery of electricity while overlooking the significant and direct financial and skills gains that renewable energy projects bring to local markets is a mistake, and we are working to change that as part of our contribution to building a more holistically sustainable world.  
What do you enjoy about working with and investing in companies that are transforming the energy sector?
I get to see a broad range of solutions coming into the market and in some cases add my voice or provide some form of support so as to enable solutions under development to reach commercial viability. That to me is priceless; it is something that only happens at the early stages of the growth phase of an industry, which is where I think the renewable energy industry is currently at.
There is still a lot of collaboration from a technology and solutions or services perspective. I find it interesting as I'm not a scientist so everything is always new and interesting and feels brilliant in its ambitions for the impact the said solutions are aiming to bring into our world. 
Over time, as industry's mature, the number of new players decrease because the established businesses out price the smaller industry participants or deliver advanced technology which present sometimes insurmountable barriers for new entrants to overcome. So right now we are at a special phase where there's a lot of collaboration and feeding into each others corporate competencies to deliver worthwhile solutions to the market and I love that. 
Are there any exciting companies that you have your eye on or have previously worked with that you can tell us about?
There are a couple companies that we do have our eye on but we wouldn't be able to invest in them because their technology is very far from market and our investor base typically wants to see returns in 5-10 years maximum from disbursement with only a few exceptions. We are however exploring the opportunity to co-invest in a local, South African manufacturing entity for one or two of the strategic components required. I'm hoping we can get the final approvals for that soon.
Outside of that we tend to be very energy project finance focused so that the funds we deploy with our limited partners deliver attractive returns so we can entice more investors into the renewable energy space which is something that is sorely needed in order to drive the growth of the industry.
What do you think about the renewable energy landscape in South Africa? Do you think there is sufficient investment going into the sector?
There is a lot of attention being given to the renewable energy sector and structurally we have pretty much everything that an energy investor would be looking for. That being said, I believe the deal flow does not match the financing capacity that is currently available on the ground.
That is why our company was created; we saw that the only way to advance the renewable energy industry as a whole is through galvanizing finance and driving it towards those high value or high impact projects. The cost of assets deployment per customer mean that even when you secure for instance millions in funding, it has a very limited reach so we have had to get very smart about the models we use so that we improve our reach, because we are still by definition, a small company, especially when compared to our international counterparts.
Initially we were very standardized in our approach however the lack of continuous funding drove us to figure out solutions that factor that in, while we promote the industry and drive investor education.
Additionally, an interesting observation I have made is that funding is made available in principle to the industry however the custodians of the said funding are unable to put it to work because there is still a gap in the understanding of the actual risks of renewable energy funding within those organizations. We typically see those organizations using models that were built around the financing of non energy assets and solutions, which is useful but not efficient if your focus is on putting the capital to work and deriving an expected return within a reasonable timeframe.
The consumers treat energy differently to every other asset class and thus there are nuances there that speak to the actual risk posed in funding the commercial and industrial level projects and even some of the personal or residential contexts. We are maybe 4 – 5 years away from having sufficient data to conclusively prove this; but is it a pet project of mine because fixing this would ensure that we are able to work with development partners and banks on a broader range of use cases.
There are other more structural or technical factors that limit the "deployability of funds" that have been allocated to renewable energy but those would largely be addressed through relooking at risk in renewable energy financing.
What advice would you give a young woman wanting to go into sustainable investing?
The renewables space allows you to become a specialist in a niche industry and there are a lot of application or solutions based challenges that need to be addressed. It is one of the few industry's where there is a constant shortage of professionals and an excess of sincerely interesting work, especially if you work directly in the industry and not just for a supplementary service provider that tacks on renewable energy as an additional application for an existing business.
Industry players are invested in solving real and painfully urgent problems so the growth potential is huge.  I recently had someone ask me if they could leave their oil and gas industry job to work in the renewables space, the concern was the lack of renewable industry specific experience, which in many cases counts for something but is definitely not a deal breaker.
A lot of the work is problem solving based so it, by default, requires application of an understood skills set, applied within a new context, where even those with experience are constantly learning and evolving so it is a very enabling environment for those who want to make a difference and grow tremendously as professionals.
You might also be interested in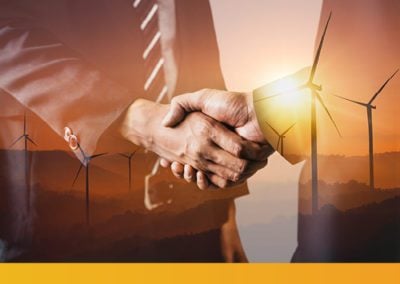 An indicator of sectoral strength has often been the quantity and value of M&A activity over an annual period, providing a sense of capital inflows and corporate interest in developing markets. The renewable energy sector has enjoyed year-on-year growth in M&A deals for the past decade, with a slight and expected dip in early 2020. read more