Executive Interview
Q&A: Katharina Lindmeier, Senior Responsible Investment Manager, NEST
Published 18th August 2021
By Sarah Casey, Portfolio Director, Climate Council
Q. What are your main focuses at the moment?
With a lot going on in the world right now, we want to help ensure companies and economies emerge stronger from the pandemic, more sustainable and more resilient.
This focus on engagement has been around pushing to advocate for sustainable business activities and over the past year we've:
Expanded our thematic engagement with the banking sector through a new initiative convened by The Institutional Investors Group on Climate Change (IIGCC). This is because we believe climate change could have a significant impact on the value of bank's assets and liabilities and because banks are in a powerful position to drive the low-carbon transition.
Supported shareholder resolutions asking for Paris-Aligned short- and medium-term decarbonisation targets at European oil majors including Shell and BP, and signed an investor statement asking for more detailed transition plans from Total Energies.
Supported the election of all four board candidates proposed by Engine No. 1 at the Exxon AGM.
Q. Can you go into some more detail on the engagement with the banking sector. What is the main goal of this?
We believe green financing can play a huge part in reducing carbon emissions and, in the process, help mitigate the severe impact climate change will have on our lives. But in the past, it has often been overlooked as banks' biggest impact is indirect by financing carbon-intensive companies or projects and disclosure on these financed emissions has been poor.
We've already seen strong action from major banks around the world, many of which have ceased doing business with companies whose main business activity is the exploration, production and export of fossil fuels.
We expect to see leadership in this area from other major banks. For example, Barclays has been the largest financier of fossil fuels in Europe and they needed to recognise the impact their funding has and change path. Their commitment last year to be a net zero bank was therefore a welcome step in the right direction. But we expect to see more details about what this means in practice and how banks can support the transition to net zero.
Q. As part of Nest's ambition to become a net-zero carbon investor, you recently appointed Octopus Renewables to manage a new clean energy infrastructure fund. Can you provide some more details on this and the long term goals?
The money we manage on behalf of our members needs to provide steady returns for decades to come. That's why we want to invest in the energy of the future, not the past, and believe renewable energy projects present a fantastic opportunity and that's why Nest appointed Octopus Renewables to coordinate our investment into clean energy infrastructure.
Investing directly in green energy generation should help secure stable, long term returns for our pension savers while helping achieve our ambition of becoming a net-zero carbon investor and it also means our members will be investing in projects they can see and touch – which we believe will provide a powerful tool to help generate engagement.
In April earlier this year Octopus Renewables announced the acquisition of two operational UK biomass power plants, with a combined capacity of 85.7MW, in one of the largest deals of its kind in the UK. The plant based in Brigg, North Lincolnshire was acquired using the fund cornerstoned by Nest.
Q. Nest has begun divesting from fossil fuels, banning investments in any companies involved in coal mining, oil from tar sands and arctic drilling. Whilst this is a positive step, many would suggest that engagement is more sustainable than divestment. What are your thoughts on this?
Nest looks first-and-foremost to engage with the companies we're invested in. We also recognise the investment risk facing our members' savings through climate change and since we have a net zero by 2050 or sooner goal, we need to decarbonise our portfolio while investing in solutions such as renewable energy and energy efficiency.
We believe putting money into companies planning further extraction of thermal coal, oil sands and arctic oil and gas exploration is incompatible with our net zero ambition. The IEA's recently published net zero scenario suggests that unabated coal needs to be phased out in advanced economies by 2030 to have a chance of limiting warming to 1.5C. Companies that today derive a significant proportion of revenues from coal production or power generation may struggle to transition or face high abatement costs, making them an unattractive investment. Companies unable or unwilling to transition away from these activities will be removed from our investable universe.
Q. Finally then, do you think it's possible for investors to balance profit and purpose?
Nest's focus is on ensuring we achieve the right risk-adjusted returns for our members. Our responsible investment approach helps us achieve this and naturally leads us, in many cases, to invest in companies and activities which have positive outcomes for society and the planet too.
We find that many lucrative investments, such as renewable energy sites and social housing, are strong performers precisely because of the positive impact they can have. In many instances it helps drive up their value because they're desired and serve an important social purpose.
Like with any investment though, they need to be considered carefully and the business case behind it must be robust before we would invest. We need confidence that what we put our member's money into will provide the returns we want.
Read here for more information on NEST's strategies for responsible investment.
You might also be interested in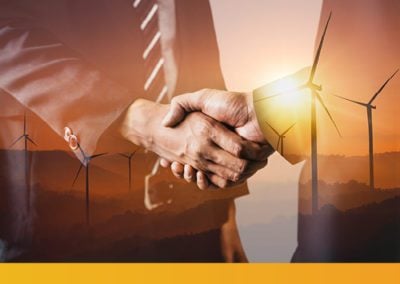 An indicator of sectoral strength has often been the quantity and value of M&A activity over an annual period, providing a sense of capital inflows and corporate interest in developing markets. The renewable energy sector has enjoyed year-on-year growth in M&A deals for the past decade, with a slight and expected dip in early 2020. read more