Article
Regulatory effects on the US solar sector in 2022
Published 17th January 2022
By David Stent, Content Manager & Digital Producer
Often the Climate Council speaks to energy executives (across both the fossil fuel and renewable sectors) who show a willingness and commitment to making environmentally positive and progressive actions to lower their emissions impacts, but the major inhibitor of these companies to truly engage with decarbonisation is a distinct lack of regulatory clarity.
For many major energy developers, this is a cost of business that can be handed to lawyers. However, the solar PV industry allows the individual can take control of their own energy production to benefit themselves or if they generate additional capacity, to sell to the grid. Developing solar policies that facilitate the acceleration of the energy transition is crucial to all Americans.
This is especially problematic in the United States of America where the tense political divide between Republicans and Democrats has led to a political back-and-forth with inconsistent energy policies, across both oil-and-gas and renewable sectors.
Under the Biden administration, these policies have become far clearer than his predecessors have and undoubtedly far more ambitious in tackling climate change than those who occupied his job previously. Key to the success of this regulatory clarity was the appointment of former Maryland governor, Jennifer Granholm, as Secretary of Energy.
The Climate Council will examine the development of solar policies in the USA and the implications of these policies in attracting both domestic and foreign investment into the US solar sector this year.
Status quo of solar markets
Solar provision can be divided into three core pillars of generation: residential, commercial and utility-scale – each with unique challenges to deployment but with the greatest potential to solve energy sustainability for the average consumer.
For utility-scale IPPs, one major barrier to market entry is the development of grid networks suitable to handling increased levels of system fluctuations. On top of this the technological barriers to storage remain a challenge to overcome, albeit one that has improved rapidly together with solar technologies.
The US Department of Energy (DoE) has set about facilitating utility-scale solar generation electricity generation through the Renewable Portfolio Standards – a set of guidelines that enforce utilities to have a percentage of their portfolio powered via renewable sources.
 "As of September 2020, 38 states and the District of Columbia had established an RPS or renewable goal, and in 12 of those states (and the District of Colombia), the requirement is for 100% clean electricity by 2050 or earlier"
For commercial and residential generators, installing solar PV panels would be significantly a more attractive option for electricity consumption if 'net metering' (the process of selling excess power back to the grid) is easily accessible to grid-connected consumers. Such a shift is dependent on grid networks being suitably updated, but would inevitably encourage rapid residential solar installations.
The bureaucratic process for residential solar PV has similarly been given an overhaul, and in July last year, the DoE introduced the Solar Automated Permit Processing (SolarAPP+) tool that has effectively reduced permitting times to less than a day for rooftop solar PV.
Government guiding growth
The White House began the year by setting out their plan of action following the confirmation of the Bipartisan Infrastructure Law, that will see accelerated investment and development of clean technologies, renewable capacity and upgrading grid infrastructure (among many others). Under the Build Back Better programme, the US government has set out a raft of policies that will entrench domestic manufacturing, workforce retraining and will actively seek out pro-solar generation opportunities.
Two such opportunities are the Bureau of Land Management approved the Arica and Victory Pass solar projects late in December 2021. Situated in Californian desert to the east of Los Angeles, the project will deliver 465MW of generation capacity with 400MW of battery storage to supply electricity to 132,000 homes. The project has received $689 million in investment to get off the ground, and will cost another $5.8 million in yearly operational expenditure.
Similarly, the Department of Agriculture has set aside $464 million for clean technology and renewable development, $10 million of which is to provide grants for solar PV installations in rural and underdeveloped communities, an essential area when considering the implications of continued rising energy prices to working class consumers.
Solar dominates new capacity additions
Central to the domestic investments into clean energy will undoubtedly hinge on President Biden's flagship Build Back Better policy, off the back of the Bipartisan Infrastructure Law. Herein, Congress has committed to investing $555 billion on clean energy projects and combating climate change. Core to this measure has been to expand tax credits for clean energy generation for another decade through the Modified Accelerated Cost Recovery System (MACRS) policy, which "reduces the income subject to federal taxes for solar project owners." Together with expanded 'Net Metering" policies, which allow the solar developer to be paid for excess generation capacity – have rapidly led to widespread interest in solar development.
So much so, that S&P Global Platts report estimates beyond 44GW of utility-scale solar will come online in 2022, accounting for over 50% of new electricity generation additions this coming year. Despite supply chain contractions causing a slight increase in capital expenditure for solar developments, this has not deterred solar developers from expanding their portfolios. Moreover, with Build Back Better plan coming to fruition, investors are forecasting a return to lowered costs within several months.
The private sector has been encouraged by these pro-clean technology policy adjustments with the likes of Blackstone confirming a $3 billion investment to Invenergy, to expand their renewable and clean technology portfolio. Herein, Invenergy have been developing the USA's largest solar development, the Samson Solar Energy Centre.
The Samson Solar Energy Centre, once complete in 2023, will have received a $1.6 billion in capital investment to develop a generation capacity of 1310MW. Of that investment, at least $450 million is directly entering the local economy, creating 600 jobs over a 36-month period. The sheer size of the Samson Centre allows Invenergy to access exponential carbon offsets, with 6 million tonnes of carbon dioxide offsets accessed over the lifetime of the project.
Elsewhere, Lightsource bp (a JV of Lightsource Renewable Energy and BP), have acquired $533 million in financing to develop a 480MW of solar PV generation capacity across the US. This is above and beyond the $2.3 billion of capital raised to invest across 10 other solar projects in the US.
Outlook for 2022
Ultimately, the outlook for solar generation capacity in 2022 is largely positive with a number of challenges to overcome – albeit, challenges that have not acted as insurmountable barriers in recent years. The supply chain blockages have created an increase in manufacturing and development costs, however many of those costs have fallen by 80% in the last decade alone, therefore a 5-10% increase in costs for 6 months will not discourage utility-scale developers, only possibly leading to a temporary dip in residential installations.
The Bipartisan Infrastructure Law and Build Back Better plans are beginning to work as intended – actively encouraging and accelerating the uptake of renewable energy capacity in the US. While wind developments are often limited to utility-scale projects, the options for solar PV generations has never been friendlier to individuals than the current regulatory environment.
Despite the rising costs, 2022 will see the greatest addition of solar capacity in a year – that is a clear signal that the watershed has passed and the winds of change are pushing renewable capacity forward faster than ever before.
You might also be interested in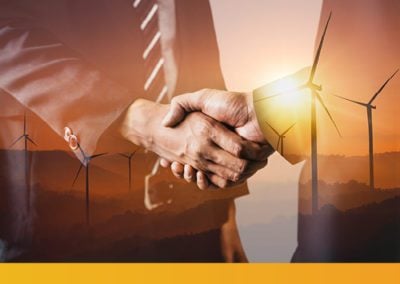 An indicator of sectoral strength has often been the quantity and value of M&A activity over an annual period, providing a sense of capital inflows and corporate interest in developing markets. The renewable energy sector has enjoyed year-on-year growth in M&A deals for the past decade, with a slight and expected dip in early 2020. read more