Expert Insight
Webinar Takeaways: How can asset stewardship bring about a low carbon economy?
Published 28th September 2021
By Kamogelo Motse, Research Associate, Climate Council
On the 16th of September the Climate Council held a webinar in partnership with White & Case, welcoming speakers from State Street Global Advisors, EOS at Federated Hermes, Orion Energy Partners, IHS Markit and Encourage Capital discussing how asset stewardship can bring about a low carbon economy.
The discussion began with two audience poll questions, the first being "Divestment will impact carbon emissions", where 40 percent of the audience agreed and 60 percent disagreed. The second poll question was "Climate stewardship is becoming a separate discipline within asset stewardship", in which 81 percent of the audience agreed with this statement while only 19 percent disagreed.
Discussing poll questions
Following the poll questions, the moderator asked the panelists their reaction to the audience response.
Divestment from oil and gas projects will not necessarily impact carbon emissions. What rather needs to be considered is where this disinvested capital is being re-invested. Investors are looking to invest their capital into sustainable financial markets. Asset managers are providing products that these investors are able to take advantage of. However, not all of these products truly meet the Paris alignment commitment. The data around what truly constitutes a climate positive investment needs to be better understood and regulators need to formulate a standardized criteria around what net-zero means and develop regulation to enforce such criteria.
Most panelists agreed that climate stewardship is becoming a breakaway class from asset stewardship. This is likely as a result of a rise in the existence and use of measuring tools around climate and Paris alignment benchmarks. There was also discussion around fixed income and agreement that the 'stewardship revolution' isn't happening in the same way in this space. Whilst debt has been moving, it's been slow and is still an early stage. It was forecasted that progression in this space is necessary and will begin to happen at an increasingly speedy pace.
Is sustainability all about greenwashing? Can the sustainability of asset allocation actually be monitored?
The European Union's Sustainable Finance Disclosure Regulation (SFDR) has put together regulatory measures that standardize emissions measurements and aim to stop corporate greenwashing. However, these measures are superfluous, as other markets such as the United States and Asia Pacific, need to have the same regulatory body or measurement criteria to tackle greenwashing in their regions. The sustainable market in Europe has shrunk from $14 trillion in 2018 to $12 trillion in 2020, while the market in The United States has grown from $12 trillion in 2018 to $17 trillion, this is a result of the SFDR in Europe tightening 'green' certifications whereas there is no equivalent of this in the United States.
The monitoring of sustainability of asset allocation should not only be based on an ESG score "box-ticking exercise" it should be based on raw data, provided by companies to asset managers, that can then be examined and evidence of this data should be accessible. However, data points will not necessarily help asset managers, who are trying to take a view on the future, as data tends to show the past and is a prediction to how things may look. Therefore, a holistic view that integrates standardized measurements of emissions within a regulatory framework will place companies on a path where they must prove decarburization successes through data – and in turn, limits the quantity of greenwashing efforts.
Without standardization, there is a risk that movement towards investment and engagement (not just negative screening), a PR exercise without the radical transformation that is needed.
Can the panel share their view on the balance between physical emissions reduction strategies versus offsetting strategies, in terms of analysis of viable investments?
From an investor perspective, reductions in physical emissions and the implementation offsetting strategies are initiated first by looking at a company's strategy and determining how it could assist in enabling the energy transition, seeing how committed the company is to net-zero objectives, as well as looking at their historical emissions.
One panelist felt that there needs to be a hierarchy: first you avoid emissions, then you reduce what you can't avoid, and only after you've done those first two, do you move to offsetting what you can't reduce. It was suggested that the current issue is that there are too many companies who have skipped steps one and two and an asset manager on the panel suggested that it is their and their peer's responsibilities to push for following the hierarchy.
Following on from this, it was concluded that offsetting should never be the first option that companies choose. Although it was emphasized that offsets are a crucial piece of the puzzle, since they put a price tag on carbon and thus put value in carbon emissions; if there was no price on emissions, companies may not pay as much attention but with an increasing carbon price companies are thinking seriously and taking real action around cutting their carbon emissions.
To avoid categorical exclusions, are there data points you look to that show those reductions in emissions?
Data was a topic of focus throughout the discussion. There were different perspectives offered however it was agreed that a single data point should not be looked at in order to calculate if emissions are being reduced. Instead, what should be looked at is the framework that was used to track those data points over time and this will enable investors to gain a clearer and more reliable understanding of what is going on.
 What does successful engagement look like?
Successful engagement is companies having short to medium-term goals determining how they will  reach net-zero; it needs to be more than just committing to net-zero plans. It was noted that during the global Covid-19 pandemic net-zero commitments grew exponentially; by March 2021 one in five of the world's 2,000 largest publicly listed companies committed to a net-zero emissions target. The Energy and Climate Intelligence Unit tracks these commitments and revealed that many of these targets were, and still are not, backed up by transparent and robust steps needed to reach net-zero.
Without such goals, steps and plans in place, the targets are almost meaningless. The panel pointed out that robust plans should be put in place hand in hand with targets, especially since in 2050 the executives that made these commitments will likely no longer be there. A three-stage framework needs to be followed from commitment; to aligning which means short and medium targets and a strategy are in place to aligned which means the strategy has been delivered.
Moreover, it was agreed that the importance of honest conversations and constructive engagement cannot be underestimated.
What is your reaction to engagement on Scope 3 emissions to fossil fuel companies?
The panelists were asked their thoughts on the Scope 3 emissions of fossil fuel companies. An audience member mused that: while efforts to reduce Scope 1 and Scope 2 emissions make sense due to operational efficiency gains and enhanced FCF, why would investors vote to limit a company's ability to execute on its CORE business?  
It was agreed that Oil & Gas companies should be engaged on their Scope 3 emissions and positive steps taken by some IOCs in this space were acknowledged. One panelist drew on their experience of engaging with IOCs and reflected on the positive actions of some companies who are accepting responsibility and becoming more open to talking about their Scope 3 emissions and transition plans.
Looking for constructive insight on how to engage on the investor or company side
In terms of private capital, engagement should be a more collaborative approach so that processes can be streamlined and made more efficient. To have constructive engagement, honest conversations also need to be had and these can be in private with the relevant stakeholders or in public to send a clear message. However, it is important to note that not all energy should be placed on engagement as it is important to also look at regulation. Many asset managers are having to take progressive steps with their engagement, as too often the regulation simply lacks behind the Paris Climate Goals – placing the onus on investors and financiers to make tough decisions in respect to shareholder value and take constructive action in the growth of sustainable finance and the battle against climate change.
If you wish to watch the full webinar on-demand, please follow this link:
https://climatecouncil.com/articles/webinar-asset-stewardship-low-carbon-economy/
You might also be interested in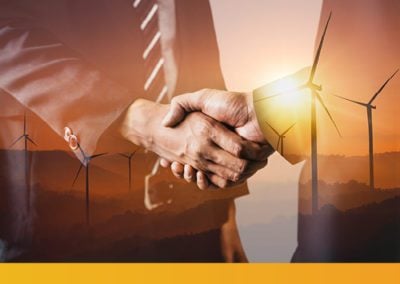 An indicator of sectoral strength has often been the quantity and value of M&A activity over an annual period, providing a sense of capital inflows and corporate interest in developing markets. The renewable energy sector has enjoyed year-on-year growth in M&A deals for the past decade, with a slight and expected dip in early 2020. read more