The Who's Who of Mexico's Energy Sector
Mexico Assembly is the most senior off record energy club in Mexico. Every year 350+ Heads of Mexico, CEOs, CFOs, BD VPs and investors gather for two full days of behind-closed-doors 1-2-1 meetings and high-level discussions to navigate the uncertainty surrounding Mexico's energy industry.
With representatives from 18 countries and an audience made up of over 65% VP level and above, government officials and investors – this is the unmissable Who's Who platform in Mexico.
Honest, Behind-Closed-Door Discussions
Pre-arranged 1-2-1 Meetings
Mexico Assembly Information Update
As a consequence of the ongoing impact of the COVID-19 (coronavirus) pandemic, Mexico Assembly, originally scheduled to take place on April 1 – 2, 2020 will now be held at the Hyatt Regency, Mexico City on May 26 – 27, 2021.
The Mexico Assembly Team will be in touch directly with all sponsors, speakers and delegates in relation to this postponement and to answer any questions.   
There will be further communication to these groups over the coming days and weeks as we aim to facilitate a smooth transition to the new dates for everyone involved.
Please be assured that we are continuing to closely monitor the latest public health and government advice with regard to COVID-19 (coronavirus) and are carefully adhering to their directions. Our absolute priority is to safeguard the health and welfare of all those involved in our events.
Thank you for your ongoing support and understanding.
PRIVATE DINNERS
This year you will have the opportunity to join three intimate, private dinner meetings during the Assembly. If you are a CEO interested in networking with up to 20 of your peers during a private dinner focused on Offshore Opportunities, Onshore Opportunities or Renewable & Off-taker Opportunities please contact the team to find out more about attending a Private Dinner.
OFF TAKERS DINNER
sponsored by 
ONSHORE DINNER
sponsored by 
OFFSHORE DINNER
sponsored by 
COUNCIL CONNECT
Enjoy the benefits of pre-scheduled meetings with Council Connect at Mexico Assembly. With over 400 C-level executives expected, you shouldn't leave your networking to chance. Maximize your time spent out of the office by allowing us to provide you with a program of pre-scheduled, One2One meetings with people you want to meet. Contact Tia Amofa to find out more.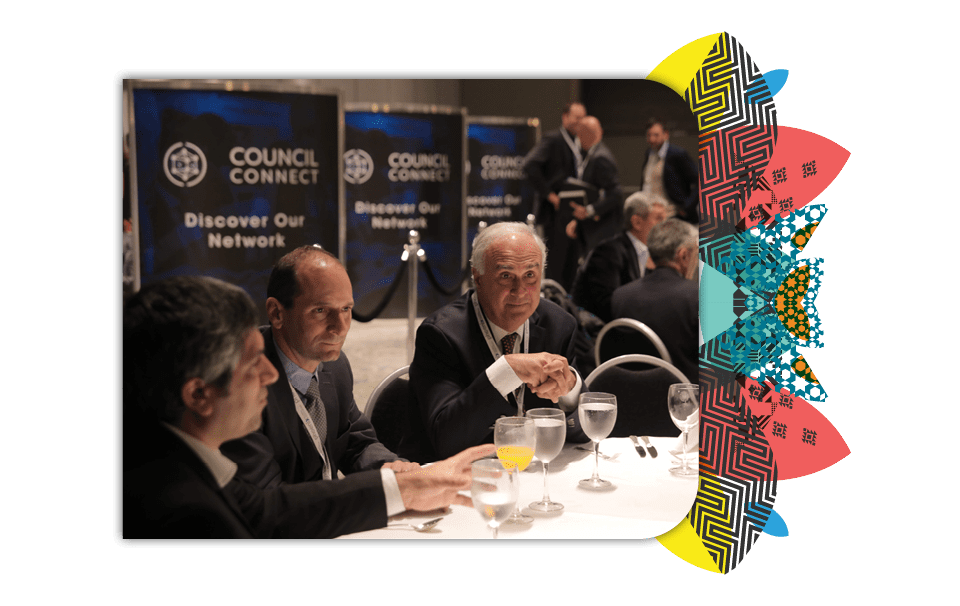 WOMEN'S ENERGY COUNCIL
The Women's Energy Council is based on the belief that a more inclusive workforce not only enhances business performance but can also serve as an integral part of business strategy and planning. During the Mexico Assembly, you will have the opportunity to join the Women's Energy Council lunch dedicated to discussing D&I in the energy industry. Contact the team to find out more about how you can get involved.
Sponsored by
Day 1, Wednesday May 26, 2021
08:20 am Morning Coffee and Registration
09:15 Welcome Remarks: Alexandra Ashikhmina, MD, Americas, Energy Council
09:30 am THE CURRENT GOVERNMENT'S ENERGY PRIORITIES: WHAT IS THE DEVELOPMENT PATH FOR PEMEX and SENER?The opening government panel will explore AMLO's top priorities and how the new administration anticipates working with the private sector
10:20 am DISRUPTIVE TECHNOLOGIES ACROSS ENERGY & OIL & GAS: IoT, AI, and Automation
This digital panel will bring together leading AI services and the operators adopting them to outline the vision of the energy industry in 10-15 years' time
11:00 am Networking break & Council Connect Meetings
Find out more about Council Connect
11:30 am WHERE ARE THE ONSHORE UPSTREAM OPPORTUNITIES NOW?
Onshore opportunities in Mexico broken down by the operators who won blocks in Round 1 and 2
12:00 pm KEYNOTE PRESENTATION – UPDATES ON ZAMA
12:30 pm Lunch; Council Connect Meetings & Women's Energy Council Private Lunch
WEC Private Lunch is sponsored by
1:45 pm MOVING TOWARDS PRODUCTION OFFSHORE
An update from the most successful operators in Mexico.
2:45 pm HOW DO YOU MANAGE REGULATORY AND SECURITY RISKS IN MEXICO?
Risks are hard to define and measure, and even harder to insure against. Regulatory risk is a concern for a lot of investors and operators in Mexico
3:30 pm Networking break & Council Connect Meetings
4:00 pm HOW TO GROW IN MEXICO – PARTNERSHIPS & JV OPPORTUNITIES WITH PEMEX
What are operators' strategies in Mexico: M&A, farm-out, JV, waiting until further changes? This discussion will analyze opportunities for cooperation and why operators adopt one strategy or the other
4:30 pm UPSTREAM & MIDSTREAM FINANCING AND CAPITAL RAISING IN MEXICO – LOCAL, INTERNATIONAL & ALTERNATIVE METHODS
Infrastructure financing opportunities in Mexico are huge and complex, with plenty of local and international players competing in the market
5:30 pm Drinks Reception in La Presidencia. Private Dinners start at 6:30pm
Day 2, Thursday 27 May 2021
9:15 am OPPORTUNITIES IN MEXICO´S POWER, RENEWABLES AND ENERGY INFRASTRUCTURE
A strategic discussion matching the government's plans for the renewables and electricity market with those of the industry
10:00 am RECIPE FOR SUCCESS – PPAs IN MEXICO
Following auction cancellations by the CFE, PPAs emerged as a major opportunity for power developers and off takers
11:00 am Networking break & Council Connect Meetings
Find out more about Council Connect
11:30 pm STORAGE PROJECTS – GAS, FUELS & RETAIL MARKETS
The discussion will analyze the state of Mexico's storage market for fuels and gas and new infrastructure to improve it.
12:30 pm INFRASTRUCTURE & LOGISTICS
Project update and appetite for infrastructure and logistics in Mexico

1:00 pm Lunch & Council Connect Meetings
2:00 pm GAS MARKETS IN MEXICO – OPTIONALITY FOR STORAGE, LNG & COMMERCIALIZATION
This discussion will debate pricing, priorities and challenges for traders operating in Mexico and beyond
3:00 pm CRITERIA FOR PRIVATE EQUITY & DEBT FINANCING FOR POWER & CLEAN ENERGY
How does the global shift to investing locally and sustainably affect Mexico? What new types of financing are becoming popular? What are investors' main concerns in 2020?
4:40 pm End of Mexico Assembly
Mexico Assembly 2020
Hyatt Regency
Campos Elíseos 204, Polanco, Polanco IV Secc, Miguel Hidalgo
11560 Ciudad de México
Mexico
Investors at Mexico Assembly
Qualified investors receive a complimentary VIP Guest Pass to the Mexico Assembly. If you would like to join 350 energy executives this April to discover the latest investment opportunities in Mexico, please contact us.
Looking Back - Mexico Assembly 2019
Success Stories
Gordon Kettyle chatted to us about why Blakes, Cassels & Graydon works with the Energy Council
Success Stories
Chris Myle chatted to us about why Sproule works with the Energy Council
2019 Onsite Interviews
We chatted with Adam Seitchik, General Manager – Exploration, GOM & Mexico, Murphy Oil Corporation
2019 Onsite Interviews
We chatted with Carlos Aguilera, CEO, Perseus Energy
Key Takeaways
Find out the top 2019 takeaways from Alexandra Ashikhmina, Managing Director, Americas, Energy Council & Benjamin West, Portfolio Manager, America, Energy Council
Onsite Audience Feedback
If you couldn't make it to Mexico Assembly 2019 but would like to get a feel for how the audience responded to questions, download the Onsite Audience Feedback.
2019 Attending Companies
With over 200 organizations in attendance, the Mexico Assembly 2019 succeeded in bringing together all of the major regional and international players.
2019 Post Show Report
Download the Post Show Report to find out more on the top takeaways, audience breakdown, top discussions from Mexico Assembly 2019.
The Oil and Gas Council provided a world-class platform from which to learn about the Mexican energy industry. They brought together key decision makers from both the private and public sectors. You met only C-level people operating in the Mexican energy industry as well as senior representatives from global financial institutions and the Mexican government. It is a fantastic platform for all those connected to the Mexican energy sector to engage in meaningful discussions and learn about the latest trends impacting Mexico's energy industry.
Great event; focused panels of relevant topics with experts from a good cross-section of government, investors and industrial companies.  The limited number of guests makes it great for effective networking.
The Mexico Assembly offers a great opportunity to get updates on actual issues for the industry and there are great networking opportunities.
The Mexico Assembly offers a great opportunity to get updates on actual issues for the industry and there are great networking opportunities.
It was a great couple of days with spot-on topics and great attendance. The Mexico Assembly was well organized with a great selection of topics and moderators. Networking opportunities during breaks were very fruitful since a lot of people flew into Mexico City.
It is the highest level energy event in Mexico.
As always a very good seminar with the right insight and approaches to the different subjects. Not to mention all the organization running seamlessly.